This Oven-Roasted Butternut Squash is an easy and healthy dish made with only 4 basic ingredients! You can serve it as a side, add toppings, or use it on pasta or salad. It's the perfect vegetarian and vegan vegetable recipe for the fall and winter.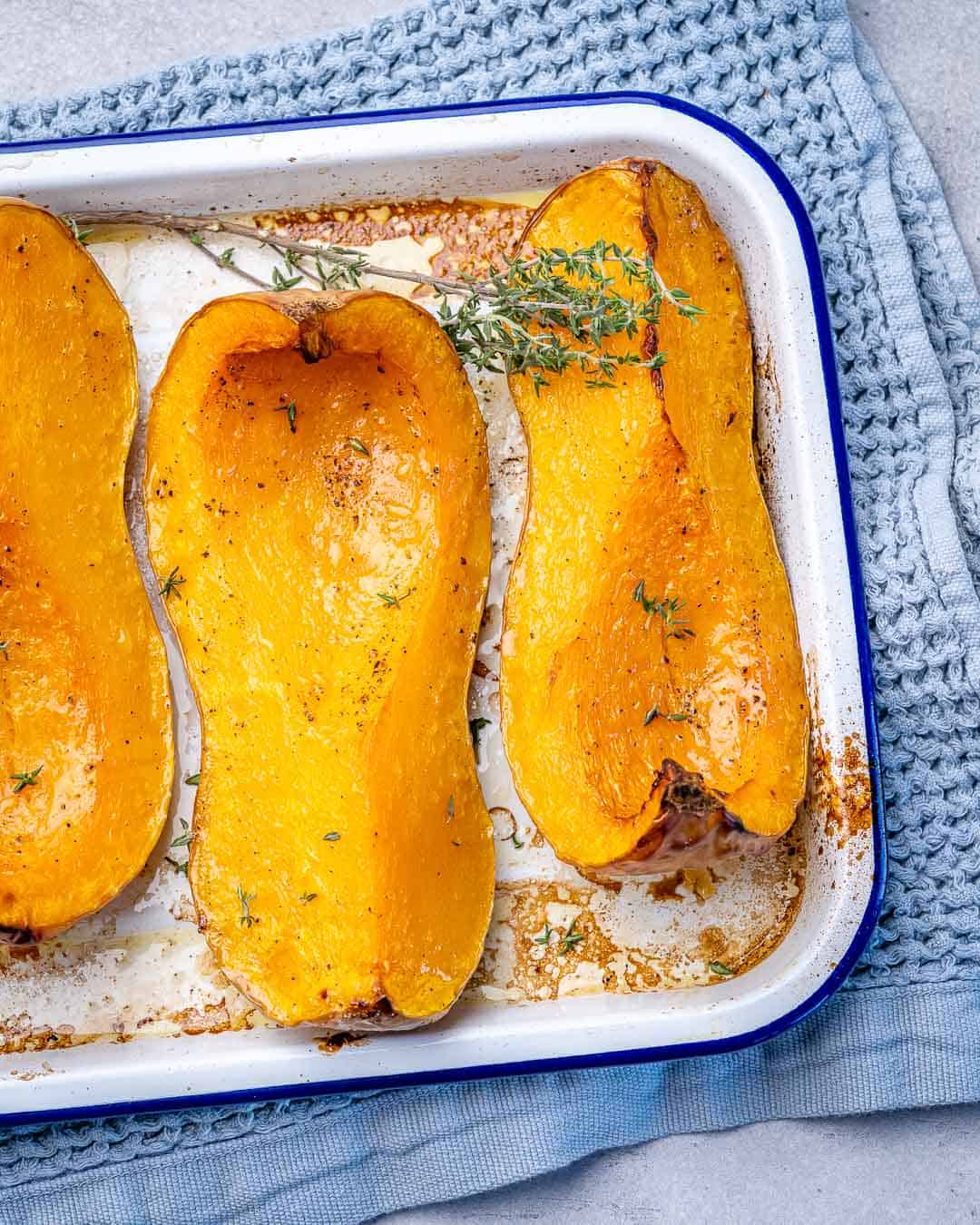 This recipe will show you how to make Roasted Butternut Squash in the oven with just 4 simple ingredients. It's a rich, filling winter squash that tastes so delicious! Plus butternut squash is full of vitamins and antioxidants, and it's packed with fiber. It's a winner recipe that both adults and kids like all season long. Get creative with the toppings you would like to add to these butternut squash while baking like pecans and maple syrup!
WHY MAKE THIS BUTTERNUT SQUASH RECIPE
Fast and easy. This recipe only takes a few minutes of hands-on time. Then pop it in the oven to do the rest. So easy!
So healthy. Butternut squash is a winter squash packed with vitamin A and C, rich in other nutrients, and full of fiber. It's a healthy vegetable that you can feel good about eating.
Delicious! Roasting butternut squash in the oven brings out the slightly sweet, nutty flavors of the vegetable. It gets tender, golden, and irresistibly caramelized on the top.
INGREDIENTS YOU'LL NEED
Full measurements are found further down below. This is just a quick list of ingredients you will need.
Butternut squash
Olive oil
Kosher salt
Ground black pepper
Water
HOW TO MAKE OVEN-ROASTED BUTTERNUT SQUASH
*Preheat the oven to 400F.
*Cut the squash. Carefully cut the butternut squash in half. Scoop out the seeds and discard, then cut it again to *have 4 long wedges or quarters.
*Prep to cook. Place the quarters, cut side up, into a baking dish or a rimmed sheet pan. Drizzle with olive oil and generously sprinkle with salt and pepper. Using your clean hands, give it a quick rub all over. Pour a bit of water to the bottom of the dish.
*Bake. Transfer to the oven and roast for 35-45 minutes, or until fork tender.
*Check the water level. From time to time, check to make sure all the water hasn't evaporated. Add a bit more water if needed, but not too much or it won't caramelize.
*Broil. At the end, broil for a couple of minutes to give it a nice golden-brown top. Enjoy!
TIPS FOR MAKING THIS WINTER SQUASH RECIPE
Butternut squash: Choose squash that feels heavy for its size and isn't bruised or punctured.
Don't add too much water: Adding too much water during baking prevents the top from getting golden brown.
Broil: The secret to getting a golden, slightly caramelized top is broiling it at the very end. This is one of the best parts of the squash!
TOPPING IDEAS
Oven-Roasted Butternut Squash is tasty all on it's own, but it's also delicious with toppings. Here are some topping ideas that go really well with roasted winter squash.
Spices – Cinnamon, nutmeg, or even a hint of cayenne would be delicious.
Sweeteners – This squash is delicious with a sprinkle of brown sugar, a drizzle of maple syrup, or a drizzle of honey.
Nuts – Chopped walnuts, pecans, or pine nuts are good options.
Cheese – Gruyere or goat cheese would add some tang to the sweet squash.
Add some Shredded meat – For extra protein, you can top the squash with shredded chicken or pork.
FAQS
Do you have to peel a butternut squash before roasting it?
When roasting a whole squash or large wedges, you do not have to remove the skin first. The skin will soften while it bakes and the flesh will pull away easily once it is done. If you are cutting the squash into small cubes before roasting, you need to remove the skin first.
Is roasted butternut squash good for you?
Yes! It's packed with vitamins A and C, and it is a good source of magnesium and potassium. It is also a fiber-rich vegetable and has plenty of antioxidants.
What do I serve with butternut squash?
Butternut squash can be served with chicken dishes, like our Lemon Garlic Oven-Roasted Whole Chicken or our Honey Mustard Chicken Breasts. It can also be served over pasta, on a salad, or in a quinoa bowl, like our Easy Quinoa Vegetable Bowl or this Black Bean Quinoa Salad.
How do I store roasted butternut squash?
Store in a sealed container in the fridge for 3-4 days. You can reheat squash in the microwave or oven.